Welcome to Auto Market of Florida!
Auto Market of Florida is a used car dealership that specializes in affordable quality used cars in Kissimmee, Orlando and in greater Central Florida. We believe in simple

TRANSPARENCY

and

HONESTY

. We have

NO DEALER FEE

and

NO HIDDEN FEES

! We are a

NO PRESSURE

,

NO HASSLES

,

NO GIMMICKS

dealership. Our

BEST PRICE FIRST

, pure and simple.
Satisfied Customers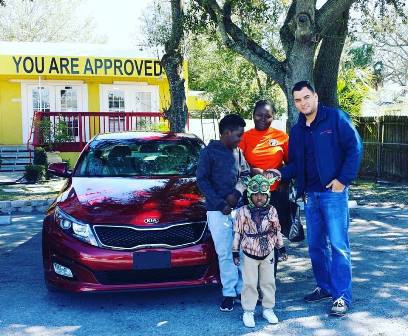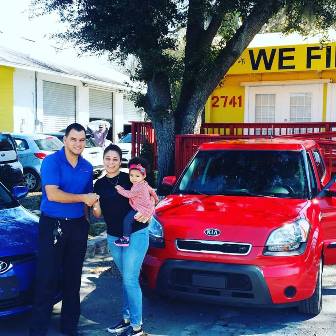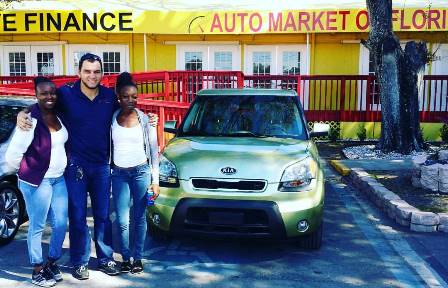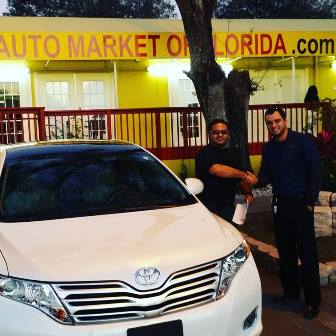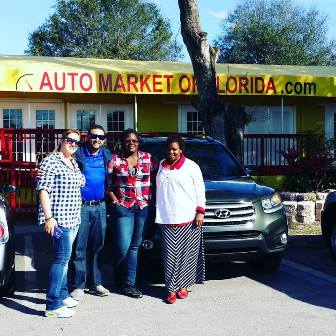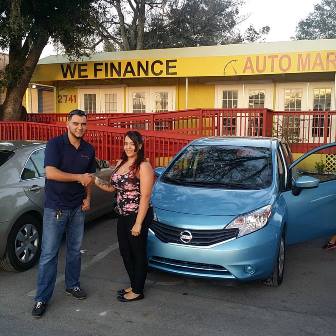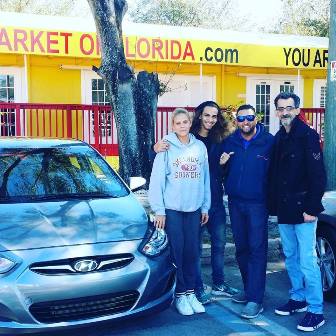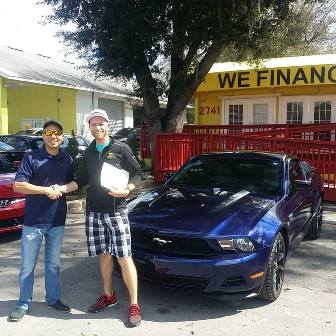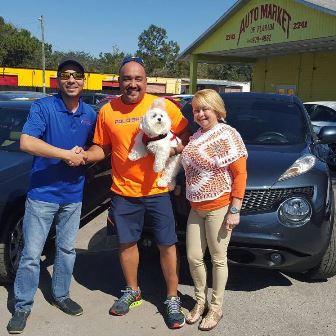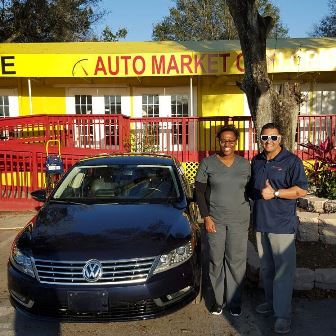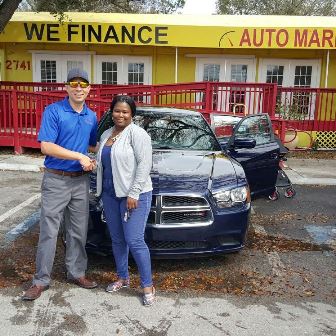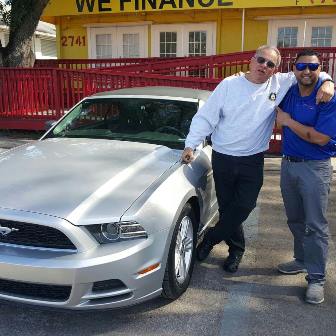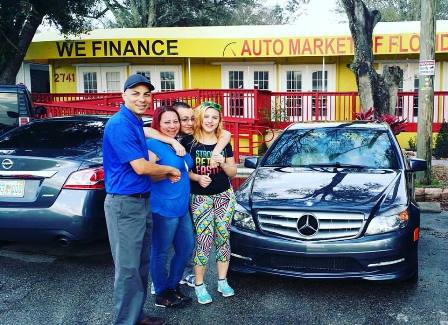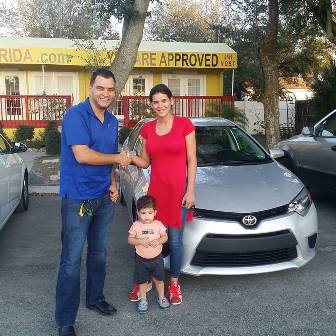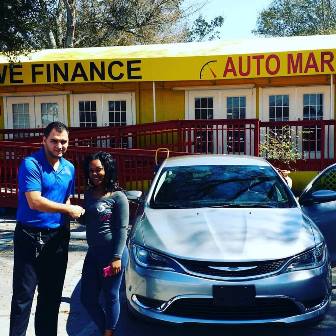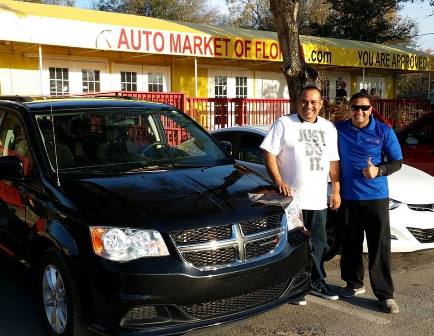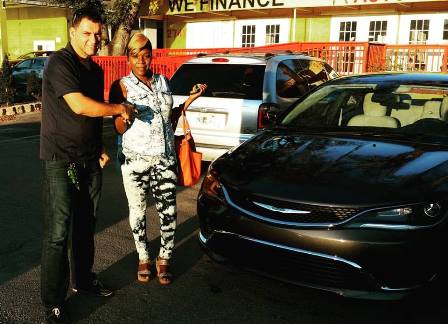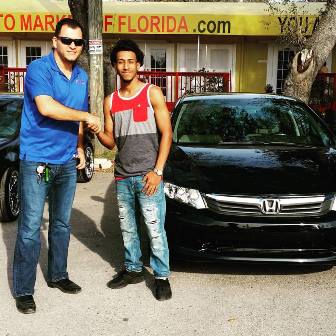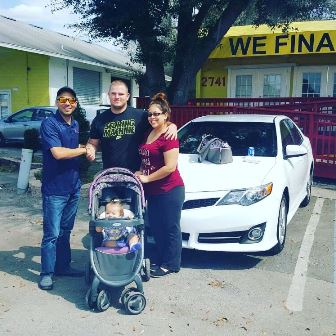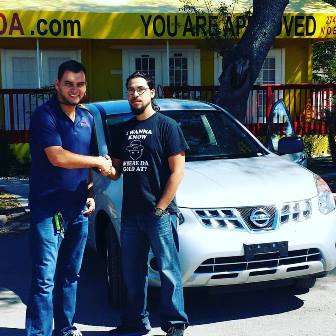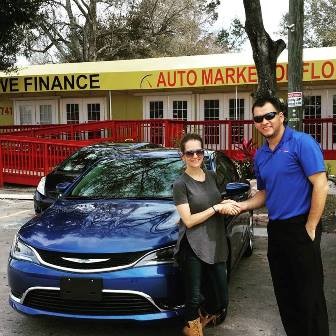 1st Time Buyer Program
with
0
Down.
*Call us
for Details
THE SERVICE WAS GREAT.VERY FRIENDLY AND THEY GO OUT THERE WAY TO MAKE SURE YOU ARE SATISFIED FROM THE VEICHLE TO CUSTOMER SERVICE PERFECTION!. I WILL DEFINITELY RECOMMEND THEM.
Isaiah Jr
Kissimmee, Fl
N/A
2013 Honda Civic
YOUR SERVICE IS VERY GOOD, IT WASN'T ONLY GOOD IT WAS EXCELLENT. I WILL LET EVERYONE KNOW THAT AUTO MARKET IS THE BEST IN TOWN. I WILL BE BACK FOR MY NEXT CAR. THANK YOU , KEEP UP THE GOOD WORK.
Lourdes Acevedo
Kissimmee, Florida
N/A
2010 bmw 328i
Great Experience!!! Great Service!!!! Great people!!!! Great Cars!!! Amazing prices!!! Will definitely be going to them for future cars. Omar was very helpful and willing to help out with anything if something appeared to be repaired. Got the chance to work with both David and Armando who genuinely car about your future and not your past. Test drove 2 toyotas and fell in love with the 2009 Toyota Venza and left within 2 hours of getting there. They got the suv of a dream for extremely low down payment and great interest rate considering it's a second car loan. Pleasure doing business and will be back in the future for any other cars I plan to purchase. They are better than off lease orlando!!!
cristobal sifonte
orlando, fl
N/A
2009 Toyota Venza
This was the BEST experience I have ever had buying a car. The process was smooth and quick, no haggle honest people. I truly felt they had my best interest in mind. THEY TRULY DID WHATEVER IT TOOK. Julian our finance guy was amazing!!! Thank you so much for making this experience an awesome one! Left with a 2015 Buick Verano at a great price!
Enivette Ramirez
Gainesville, Florida
N/A
2015 Buick Verano
Excellent people with excellent cars!! They've taken transparency to a new level. No hidden fees, or any surprises. Down side is they dont negotiate their prices, what you see is what you get. Higly recommend
Yocasta Alvarez
Orlando, FL
N/A
2011 Mercedez c300
My experience with Auto Market was very good but David & Omar when above & beyond. Thank you so much. I will let everyone know how happy I am :)
Elizabeth Montanes
Daytona Beach, FL
N/A
2014 Toyota Camry
Great service! Came to buy a car and the staff was super friendly and courteous. I got the car I wanted and left happy! I will definitely come back in the future and I recommend Auto Market to any one looking to get a car!
Leonardo Maldonado
Kissimmee, FL
N/A
2011 Toyota Sienna
Just purchased my new car...you guys were great!!! fast , simple , and easy. I would recommend you to others. Thank you for making it easy to purchase a car... I will return!!!
Lochanda Davis
Kissimmee, FL
N/A
2014 Dodge Charger
EVERYONE WAS VERY HELPFUL. THEY EXPLAIN EVERYTHING IN DETAIL. I WOULD RECOMMEND FRIENDS TO COME TO THIS PLACE. THANK YOU!
Carlos Agosto
Kissimmee, FL
N/A
2010 BMW 528
Excelente servicio. El financiamiento fue facil y economico. Recomiendo a todos buscando un buen carro y buen negocio
Elliett Acosta
Orlando, FL
N/A
2009 Honda Fit
I worked with david and omar.... both guys were vary nice and helpful.... my credit was not great and they got me into a car very fast. I cant say enough about these guy I will be back again.
Kevin Godfrey
Orlando, FL
N/A
2015 Hyundai Sonata
My experience was amazing I honestly owe my work and life to this people. I was on my feet because my car would constantly mess up. But all i have to do was just walk in and they help me out with everything and of course my new car with low mileage and turbo. Its amazing how this people work to help each other. Like honestly they are the most humanitarian people i have ever met in a car dealer. I am great full forever.
Rey Robles
Kissimmee, FL
N/A
2012 Kia Soul
Good afternoon... I just wanted to post my review on the Auto market Car Dealership. The car dealer David Landing was extremely courteous, and helpful when purchasing my Jeep Cherokee. He explained everything I needed to know about my purchase and it went very smoothly. He and the staff there were very kind and gave not only me but my family great service. I would recommend this car dealership to friends and family. Thank you Auto market!
Dawn Chenault
Orlando, FL
N/A
2013 Dodge Grand Caravan
Great service, very friendly staff. They will work with you and your budget. I am very pleased with my car and the way me and my family were treated, we will be here next week for my husbands car. I recommend it 100 percent
Ashleigh Castro
ORLANDO, FL
N/A
2009 MERCEDEZ C300
estoy muy agradecida por el excelente servicio y prontitud con la compra del my nuevo vehiculo ,,,muchas gracias.
Claudia Gomez
Orlando, FL
N/A
2015 Nissan Versa
Definitely had an awesome experience. They treated us with a lot of respect and helped us with all our questions. Very friendly staff and helpful. Highly Recommended.
Jeimils Olivo
Orlando, FL
N/A
2015 Mitsubishi Lancer
Definitely recommend this place !!!! Everyone is very sweet and they helped me get my first new car with no issue at all !!!!
Angelina Morales
Orlando, Florida
N/A
2015 chrysler 200
I WOULD LIKE TO THANK AUTO MARKET FOR REALLY GOING ABOVE AND BEYOND FOR ME. I UNDERSTAND THAT IT TOOK A LOT OF WORK TO GET IN GOOD SHAPE AND ALWAYS DID IT IN GOOD SPIRITS. IT WAS A LENGTHY PROCESS BUT EVERYTHING WAS EXPLAINED AND APPRECIATED THE PATIENCE THEY HAD WITH ME.
CARISSA PADILLA
Saint Cloud, FL
N/A
2015 Nissan Altima
It was a great experience buying a car with this dealership. David was a great salesman. He helped me through the entire loan process and assisted me in getting the loan approved. I am very satisfied with the service and I would definitely recommend this dealership.
Gino Ibanes
Kissimmee, Fl
N/A
2013 Nissan Maxima
VERY GOOD EXPERIENCE. GREAT PEOPLE AND ENVIROMENT. THEY REALLY HELP PEOPLE OUT.
KELLY DOMINGUEZ
Kissimmee, Florida
N/A
2014 Hyundai Accent
They have excellent customer service. They were ready and prepared to answer my questions and also explained every details every step of the way. They are most definitely a company that i would recommend doing business with. Thanks to them my dreams came through
Samantha Smith
Daytona Beach, Fl
N/A
2014 Chevrolet Malibu